Radio Regent Has Moved Servers
November 28, 2013
As an increasing effort to better the station and to resolve server downtimes, Radio Regent has moved to a new reliable linux server on Shoutcast. Radio Regent will soon be found on internet streaming directors across the web. Those listening via mobile using the TuneIn app: please stay tuned we shall have you reconnected shortly.
Radio Regent in Partnership with 91.9FM The Cave (Kingston)
November 26, 2013
Radio Regent will be working in partnership with The Cave to cross-promote
youth based
radio programming on the FM dial in Kingston and on Radio Regent's stream here in Toronto broadcasting world wide.
91.9 The Cave, is a community, not-for-profit station in Kingston, Ontario run as a focus program in the Limestone District School Board. They broadcast throughout the school year and hire student managers an+d support volunteers to continue to serve the community during the summer months. Each semester, they invite students and volunteers from across the community of Kingston to participate at CKVI radio as hosts, programmers, sound engineers, public relations coordinators, journalists, interviewers, reviewers, and charity fundraisers in order to perform all of the associated jobs involved in a CRTC licensed station.
Radio Regent's Paul Corby Gets NCRA Honorable Mention
September 16, 2013
Radio Regent's Paul Corby gets honorable mention from The National Campus and Community Radio Association (NCRA) for his outstanding muscial content on his Friday show "Corby's Orbit", right here on Radio Regent! Be sure to tune in every Friday at 5-7pm EST.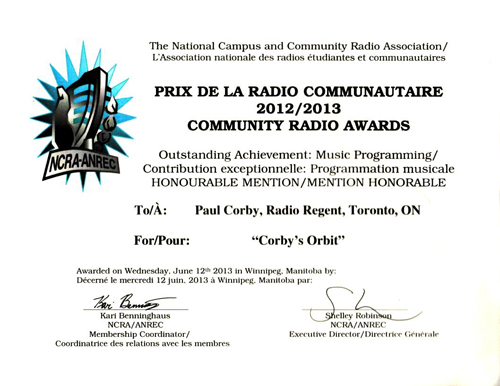 Radio Regent's "The Jam!" April Edition Recap
April 30, 2013
A very fun-filled evening for the Regent Park community because of "The JAM" event.
The Regent Park residents were very excited to see what was in stored for them this end of the month. We moved the event to familiar territory which is at the Daniels Presentation Centre. At this time of the year, this is a much preferred venue for the sunny outdoor feel, and the open space. We had so much fond memories there before we started moving 'The JAM' events at the Daniel Spectrum!
The Focus House Band led the introduction of the performance as usual, and played a little longer than usual because there was a performance cancellation as short notice. Their energy was always there at a constant level whatever transitions that were given to them.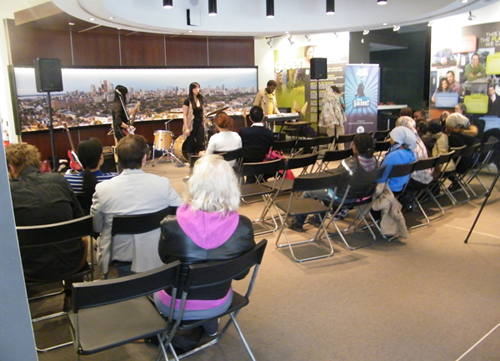 Pete Townsend followed up with a powerful spoken word poetry performance.
At last the Finale! Closing out for us was the very talented band called: "The Fires Of". They electrified and rocked the crowd with their amazing musical and lyrical skills. Especially Graham's powerful, piercing vocal talents when he started howling closed to the end of their performance. I asked Graham who gives them inspiration and had good influence on their music… He replies: "It's Mozart and Beethoven".
The crowd was more than satisfied with this month's Last Friday JAM event, they were ecstatic! Our friends and supporters helped us with donations and giveaways for this event. The kids in the community were more than eager to participate in a dance-off and Rap/Emcee competition, when they found out that New Era are giving away hats and Rainbow Cinemas also have prizes for them.